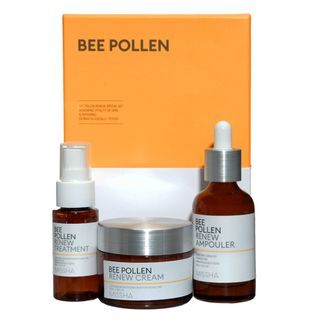 I love trying out uncommon or unusual skincare ingredients (within reason, of course).
Snail mucus? Tried it. Turmeric? Why not. Egg? Psssh, sure.
I'd tried bee venom skincare before, but never bee pollen. When I saw the Missha bee pollen ampouler, toner treatment and cream set during my last visit to Seoul, I was super intrigued. K-Beauty value sets are truly any beauty-and-skincare-lover's kryptonite.
After first eagerly shelling out the won, then doing a little bit of digging online, I was even more excited to try these products. It totally makes sense why the Missha bee pollen line would do great things for your skin.
Bee pollen is the incredibly nutritious substance fed to young bees. It's a superfood, too. I love the idea of edible skincare ingredients, especially if they're insanely good for you!
Backpacking Asia? Check out my awesome 3 week Vietnam itinerary for adventurous backpackers!
If you've ever heard of moisture barriers, and are concerned about yours, head straight to this product line. Bee pollen, among other benefits, is supposed to help restore our moisture barriers. With all the chemical exfoliation and acids and stuff on the market now, people are over-using them and messing up their skin's natural moisture barriers. If you see people going on acid detoxes, where they quit using actives for a month or more, it's probably due to some sort of moisture barrier crisis.
It's also great for helping with winter dryness, which can definitely with your skin. Personally, after a harsh, dry North Dakota winter and various exfoliating skincare experiments, I figured my skin needed some serious TLC.
Read my review below for details, but here's the TLDR: buy this value set if you're really interested in the skincare benefits of bee pollen (particularly if you have dry skin or an effed up moisture barrier). It comes with a full sized ampouler, which was my favorite product in the set.
If you think you just need a little bit of help, or want to dip your toe into bee pollen, just get the ampouler on its own.  
Without further ado…let's get to the in-depth review!
Day 1: First Impressions
After washing my face with my gentle cleanser, I used the bee pollen treatment mist as a sort of toner. I just spritzed it all over my face, though will try their other recommended method of using a cotton pad tomorrow. The mist smelled great and felt quite refreshing. It didn't sting my eyes or taste weird or anything like that.
After the treatment, I applied the bee pollen ampouler itself. I'm not sure what I was expecting, but not this. It was extremely viscous and quite cloudy. It also smelled nice. I can't quite describe the scent, but it was clean and fresh and reminded me of high-end skincare. The ampoule (ampouler?! What's the difference?) applied really smoothly and just sunk nicely into my skin, yet I only needed one squirt from the applicator. I noticed it was a tad slimy, like the CosRX snail mucin in a way.
Finally, I applied the cream. It was quite luxurious and thick and, yes, it smelled good, too. After all this my face felt moisturized yet not sticky or greasy in any way. Now, to bed!
---
Day 2: First Impressions 2.0 (AKA Second… Impressions…?)
So, when I first felt my face upon waking up it felt wonderfully soft and smooth. I loved how my skin looked and felt, and was excited to keep going. No sign of pimple reduction (I had a few lingering hormonal breakouts at this point), but that's not really what the line is target for anyway.
I noticed a bit more stickiness in the morning than at night, funnily enough. But after my usual face wash routine and applying the line again, makeup still went on really well over the skincare so that was fine by me.
---
Day 3: Am I Allergic to Bee Pollen…?
I have noticed a couple tiny bumps around my hairline. Unsure if this was some sort of allergic reaction or completely unrelated, I decided to apply the products less heavily in the mornings. I'd been using all three fairly generously at night and in the morning; I think this is too much for my slightly sensitive skin, which typically only gets some micellar water and moisturizing SPF in the mornings!
Overall, though, I was loving how my skin felt. I began saving the thicker ampoule for the evenings, and using the other two more sparingly in the mornings and evenings. My morning routine is typically pretty minimal so it was kind of ambitious of me to slather on all this new stuff twice a day. My cheeks especially were looking extremely smooth and glowy after just a couple days.
Day 4: Thaaaaaat's Better
I did not wake up with any bumps this morning, so it seems Operation Chill Out With The Morning Skincare worked. I applied a thin layer of the cream before my sunscreen on the fourth morning, and my primer and makeup went on really smoothly and beautifully. I can't get over how good this stuff smells, seriously. I feel so fancy when I'm putting it on, whether it's the toner, ampoule, or cream. My skin is absolutely more hydrated in the dry, windy North Dakota winter air.
Day 7: This Missha Bee Pollen Stuff is Great!
Okay, so, it's been a week and I'm really pleased with my skin on the Missha bee pollen products! I think my skin has a nice glow and plumpness to it—classic signs it's moisturized. I haven't experienced any more odd bumps or pimples.
In fact, my skin often develops really dry patches after I go outside when it's windy and frigid, but I haven't experienced any of that since using the Missha products, either!
I have used hardly any of the mini sized toner or full sized ampoule, but the mini size of the moisturizing cream is maybe a third gone. I don't think I'm using ridiculous amounts of it or anything… perhaps they just include enough for you to decide if you like it enough to buy the full size.
I love waking up in the morning when I've used these products the night before. My skin feels soft and smooth and bouncy, as if I used some awesome night mask. I can absolutely tell these products are great for restoring moisture barriers, as described.
I'll keep using until I finish the moisturizing cream, then update again.
Day 14: Out of Cream/2 Week Check-in!
I literally finished the deluxe size moisturizing cream on the two week mark (pretty much expected for a smaller sample size moisturizer). I've been using the toner mist and cream mornings and evenings, and ampoule every evening.
My skin loves the Missha bee pollen line so far. It isn't doing much for my hormonal acne breakouts, but that's not the skincare concern it targets, anyway.
What it is doing wonders for, however, is dryness and moisture barrier. Sorry to over-use the phrase, but really, this has been 2 weeks of much-needed TLC for my poor skin!
I will keep using these products until I run out, and will update this post if I have any problems or they stop working. So far though, I'm really pleased overall!
The Verdict: Will I Repurchase the Missha Bee Pollen Renew Products?
The Missha bee pollen ampouler, toner treatment, and cream are great products, and I'm glad I tried them. You can buy the set from YesStyle (an awesome, affordable K-beauty and style site), the Missha website, or Amazon.
After 2 weeks, I can already see them doing wonders for my dry, sensitive winter skin, and restoring a damaged moisture barrier. The set of three was an ideal way to try them all, particularly because my favorite product of all (the ampouler) comes in a full sized bottle.
I would MOST enthusiastically recommend the Missha bee pollen renew ampouler. I love the skincare benefits of bee pollen and this ampoule delivers them. I can see it being the only essence/ampoule I reach for, especially in the winter months!
My second favorite product from the line is the toner renew treatment. It's cool that it can be used as a toner, or just a refreshing, moisturizing spritz (with or without makeup on)! I used to use the Mario Badescu facial sprays, but the Missha bee pollen treatment is definitely more moisturizing and it just feels better for my skin.
Finally, the bee pollen renew cream is a nice moisturizer, but if you just want one product from the line and aren't buying the value set it'd be the one to skip. I feel bad saying this, because it really is a great product. Maybe I'm spoiled with my Cerave daily moisturizer, but this is the product that felt least "special" and easiest to dupe?
That said, the set of all three is a great deal, so give it a shot for yourself. While the cream soaks wonderfully into my skin and is nourishing, it is a bit sticky and I have tried other moisturizers that do the same thing. I reckon you could get the benefits of bee pollen ingredients from generously applying the ampoule before bed with your essence(s), and just following up with whatever moisturizer you like best.
Thanks for reading my Missha bee pollen renew review!
Let me know if you tried any of these products, and what you thought! If you purchased them after reading this review, I'd also love to know if you agree with my assessment!
Like it? Pin it!
*Some of the links in this post are affiliate links, meaning if you decide to buy anything through them, I get a small commission. I never link a product I don't whole-heartedly believe in*